I've been using an iPhone for quite sometime now- I bought one just before the 3G's came out- I was going to wait, but I figured I'd be able to pickup a first gen pretty cheap with the 3G's coming out, and I wanted to get an unlocked one anyway, as I didn't want to end up getting stuck with the Rogers plans/term contract.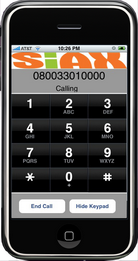 I just installed a new app the other day, that gives you a native SIP/IAX2 client for your iPhone- which is pretty awesome, and something I've been waiting (and considering writing) for a while now. It's called SiAX, and currently only available through Cydia (jailbroken phones).
The app works fairly well- the audio quality is good, and seems to be pretty solid. Unfortunately, you only seem to be able to receive calls through the app while you have the application running; it doesn't maintain any SIP registration information when you close the app, which is a little weird. But for a quick call here and there, especially to avoid roaming charges on the road, it's pretty decent.
I've actually disabled my data plan with Rogers, as it's a rare occasion that I'm not around a wifi connection- even when I'm travelling, there's usually at least one Starbucks around. Of course, this was only after incurring hundreds of dollars in roaming data usage.