The RBLTracker domain is now signed with DNSSEC, and we've published the website certificate fingerprint via a TLSA record (also known as DANE), so that you can be 100% sure you're interacting with the RBLTracker servers.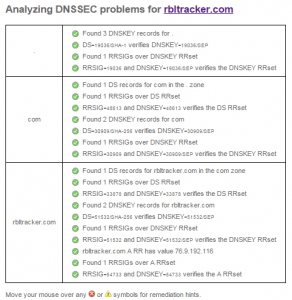 This can be validated through the Verisign Labs Test Tool.
What is DNSSEC, and why do I care?
The point of DNSSEC is to provide a way for DNS records to be trusted by whoever receives them. The key innovation of DNSSEC is the use of public key cryptography to ensure that DNS records are authentic.
DNSSEC not only allows a DNS server to prove the authenticity of the records it returns. It also allows the assertion of "non-existence of records".
What about DANE, what's that all about?
DANE, or "DNS-based Authentication of Named Entities", is a way for domain and website owners to publish SSL certificate fingerprints, so that visitors can validate that the certificate being used on a website is valid for that site.
Over the last few years, there have been several security breaches with Certificate Signing Authorities (CA's)- companies that sign certificates that you use for your secure website- allowing the issuance of certificates for domains, not owned by the domain owners.
Using DANE, you can define exactly which certificate or CA is valid for your website, restricting the ability for a would-be hacker to masquerade as your website, by gaining access to your CA.
This obviously only makes sense in tandem with DNSSEC, as you need to validate that the DNS information providing the certificate fingerprint is valid, and not modified along the way.
How can I tell if a site is using DNSSEC/DANE?
Until there is more mainstream support for DNSSEC/DANE- for example, building support for it directly in the OS layer and in web browsers- there is a great browser plugin by cz.nic, that will show you when a site is protected with DNSSEC and DANE.