A New Approach
Fonolo's approach to improving the call center is radically different from anything you've seen before. Rather than asking you to install new hardware or software, Fonolo integrates with the call flow by bridging every call between your agents and your customer.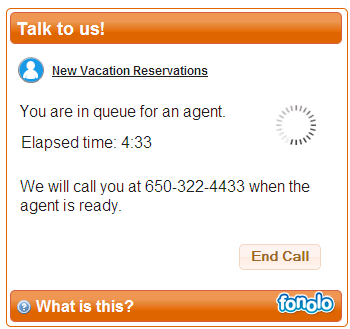 Hold-for-Me
With Fonolo's Hold-for-Me feature, you can show your customers that you respect their time and offer to call them back when an agent is free.
This approach to virtual queuing can eliminate hold time for your customers in a way that is completely transparent to your existing infrastructure.
To your call center, calls through Fonolo look like any other inbound call. Your IVR, ACD, CTI and other systems will continue to work exactly as before.
Benefits
Create an improved customer experience.
Reduce operational costs and improve agent efficiency.
Provide a uniform interface between the web and mobile applications.
Collect information from customers before the call to streamline the agent conversation.
Visit the Fonolo Resources page to download the full Whitepaper on Virtual Queuing.