Last night the Netflix third quarter earnings were released which, in and of themselves weren't all that bad, but investors were spooked by a letter included in the report, from CEO Reed Hastings and CFO David Wells.
The letter talks about the recent pricing changes debacle, and how it would negatively impact fourth quarter, and potentially first quarter earnings.
The market then did what it often does- overreacts to the information, causing a 37% share price drop, which translates into $2.3 billion in market cap.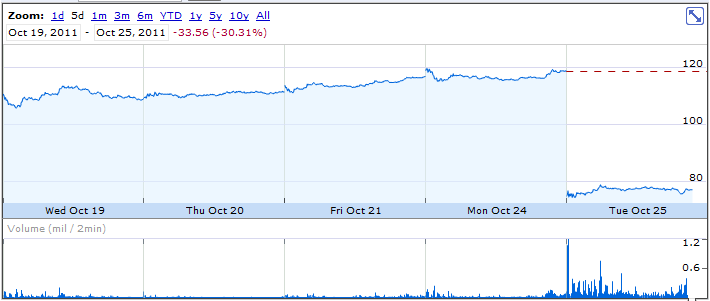 Streaming video is clearly the the future of movies and television- so this drop is a great opportunity for investors to save ~$40/share on a company that's still killing it in the market place- and by the look of volume graphs today, there's plenty of people that agree.