We've been hard at work here at fonolo, and we're happy to announce the availability of several new features, including the ability to add custom bookmarks, an improved company search bar, and probably the most exciting, the ability to record your calls, and then play them back through the web interface.
Bookmarks: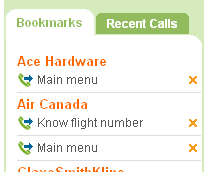 The bookmarks feature lets you personalize a list of companies, and points in a companies' phone tree, that you call frequently. Entries in your bookmarks list can then be deep-dialed with a single click.
Improved Search:
We've added a much improved search bar at the top of every page inside the interface. The new search will provide an auto-complete drop-down as you type, with searches that can be based on partial/full company names, partial/full phone numbers, as well as keywords found within the companies phone tree.
Call Recording:
One of the most exciting new features, is the ability to record your phone calls directly through the fonolo web portal. While you're on a call initiated through the fonolo portal, simply hit the "Start Recording" button, and fonolo will start recording your phone call for you.

After you've completed your call, the recording will appear in your history (available from the home page, or from the company page); you can then playback the recording online, or download and play it back locally through your favorite mp3 player (like winamp or windows media player).
This is a beta release of call recording; enhanced features will be included in our next major release.
Visit the fonolo website to sign up today, and come see Shai Berger in person at the 2009 Emerging Communications Conference.