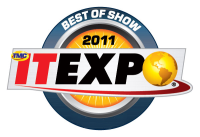 We were surprised and delighted today when Fonolo was named "Best-of-Show" in the "Contact Center Solutions" category at the ITExpo conference. You can read the formal announcement (and see the other winners) here.
If you are attending ITExpo, please drop by our booth (#422) to see a live demonstration and chat with our team. You can also see Shai speak on two panels tomorrow. Details here.
Fonolo's CEO Shai Berger, and Director of Sales Chris McLean will be at this years ITExpo show.

If you're planning to be in Austin for the show, which runs Sep 13-15, we'd be thrilled if you stopped by our booth (#422). You'll be able to glimpse the future of the call center experience via live demos of Fonolo — both web and mobile.
We'll be showing some capabilities there that haven't been seen before. You'll also be able to chat with the Fonolo team about our product and see if it is a fit for your call center. If that's not enough incentive for you, we'll also be raffling off some great prizes!
Shai will also be presenting at two panels, both on Sept 15th:
Harnessing the Customer Service Experience with a Multi-Channel Approach
and
Bringing the Social Experience into the Business Context
We hope to see you in Austin!