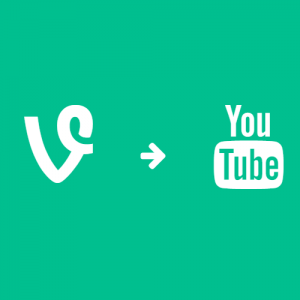 On Oct 27th, the folks at Vine (Twitter) announced that they were going to be shutting down Vine- mostly likely because they failed to monetize the service, and with an announced 9 percent layoff, it makes sense that they would start pruning off services that are just costing them money.
They insisted that that "Nothing is happening to the apps, website or you Vines today", but they also gave no timelines on when the service will be shutting down.
Given that news, users have been looking for ways to save their Vines; you can, of course, simple download the video files directly. There have also been a few apps that quickly convert your vines to GIF's- but the obvious downside, is the loss of audio.
To that end, I've created https://vinetoyoutube.com/
A very simple tool that will save any Vine video to your YouTube account. Just authorize your Google account, and paste in a Vine URL, and we'll save that Vine to YouTube.
Why did you build this?
I couldn't sleep and it only took me two hours- and maybe it'll be useful to somebody out there that wants to preserve their Vines after Twitter shuts things down.
Is it secure?
Yup- the site is encrypted, I don't save a copy of any of the Vines, and the Google authorization is session based, and not stored on our side, or in a cookie. So as soon as you close your browser, the authorization is cleared.
Cool, but I want to group multiple Vines in a single video?
That would be cool- and something I'll add if people really want it. Contact me to let me know if this is something you really want.
If you have any questions or comments, contact me on Twitter.